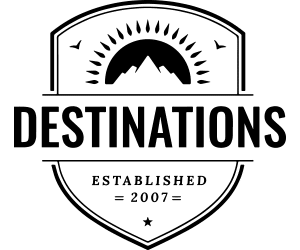 Love to travel? Let Destinations Inc. make sure you reach all the desired destinations on your travel wish list this year. Destinations Inc. is a comprehensive members-only travel platform built to offer explorers everything they need to enjoy their next big adventures; and we can't wait to offer you exclusive deals and savings on all the greatest transportation, lodging, entertainment, and more worldwide!
When it comes to trusted travel brands, Destinations Inc. strives each and every day to be one of the best. We do this, of course, by doing everything we can to help our loyal members enjoy the most personalized vacations possible, including ensuring rapid response for all inquiries, making sure you have access to the safest and most comfortable accommodations, and guaranteeing absolute privacy in regards to your unique travel itinerary. Best of all, our caring support staff is available to address any needs or concerns you may be having on the go, meaning you can travel with even greater confidence than ever before! Whether you need to return from your trip early, switch up your schedule and choose another one of our thousands of possible destinations, or extend your trip an extra day, or five, our support staff at Destinations Inc. will always be here to help you make your vacation your very own!
Destinations Inc.'s state-of-the-art travel portal will truly open up the world to you – literally! In seemingly one click, you will find greater bargains on vacation packages you've only ever dreamed of, and there's no limit to what you can explore. You can choose your vacation based on destination, nearby sights and attractions, popularity, time of year, or whatever else you want. It's nothing like a timeshare where you're stuck paying all year long to visit the same place over and over. Destinations Inc. puts you in control of your destinations, giving you the power and freedom to entertain any and every impulse because that's what vacations are all about!
Our travel specialists at Destinations Inc. understand that vacations aren't just about escaping the mundane and binging on fun. A real vacation should be an enriching one-of-a-kind experience for you and your family to enjoy together. That is what our amazing services at Destinations Inc. aim to offer our members. If that's what you want for your family, and you'd like to understand firsthand what it feels like to take your dream vacation, we welcome and encourage you to learn more about becoming an elite member of Destinations Inc. today!