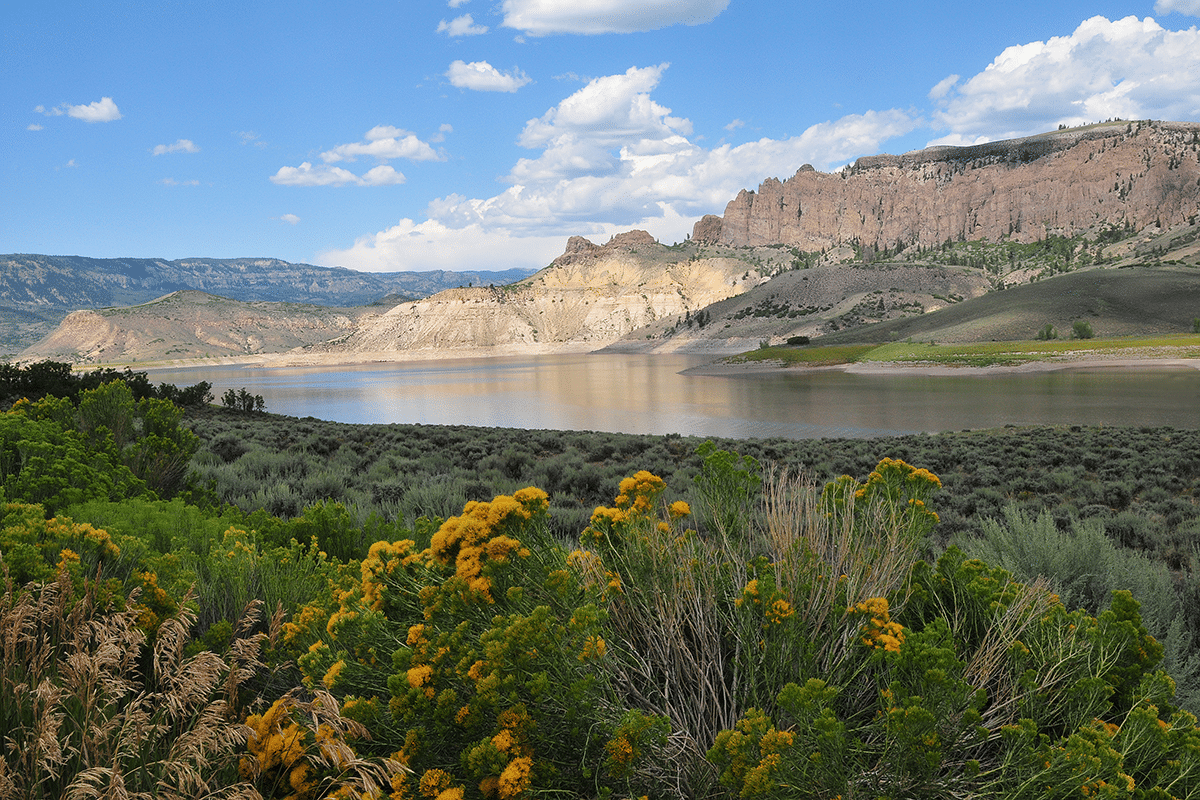 You don't have to travel the world over to see such spectacles of beauty as those you can find in Colorado. There are 2 national parks in Colorado that should be on your bucket list. These two parks – one, a national recreation area; one, with national park status – offer everything from ancient human dwellings to rock climbing that really gets your blood pumping. If you're traveling with family, Curecanti is perfect. If you choose the steep walls of Black Canyon, bringing young or inexperienced climbers isn't advised.
Curecanti National Recreation Area in Colorado
Curecanti National Recreation Area is a perfect family vacation in the making. Located within the park is the largest body of water in Colorado, the Blue Mesa Reservoir. Dinosaur bones have even been recently discovered here. Just say 'dinosaurs' and the kids will be all-in.
There are three reservoirs in total at Curecanti. All are named after dams along the Gunnison River. You'll also find panoramic mesas, reservoirs with a special brand of "fjords", and deep, begging-to-be-explored canyons.
Black Canyon of the Gunnison National Park in Colorado
The Blue Mesa Reservoir is also home to the United States' largest salmon fishery, the Kokanee. Another nearby park, Black Canyon of the Gunnison, begins at the mouth of the Morrow Point Reservoir. And finally, Crystal Reservoir is at a lower elevation near the Gunnison Tunnel, a landmark marking a civil engineering feat of historic proportions.
If the dinosaurs and reservoirs aren't enough to reel you in, there are over 5,000 acres of archaeological district. Within, you'll find the remains of dwellings from a people who lived in the region over 6,000 years ago. This is a place that hearkens to history.
Black Canyon also offers a glimpse into history – the kind that takes millennia. Are you an avid outdoorsy type? Experienced climber? This is the backwoods haven you've longed for.
There isn't another canyon on the continent – sorry, Grand Canyon – that combines such narrow openings, sheer-faced walls, and stark depths as Black Canyon. The climbs and terrain here are for the well-trained.
Find information about Curecanti National Recreation Area here. Receive more details about Black Canyon of the Gunnison National Park here.
---
*As with all proper vacation planning, be sure to call these parks before you visit to assure park hours and availability*