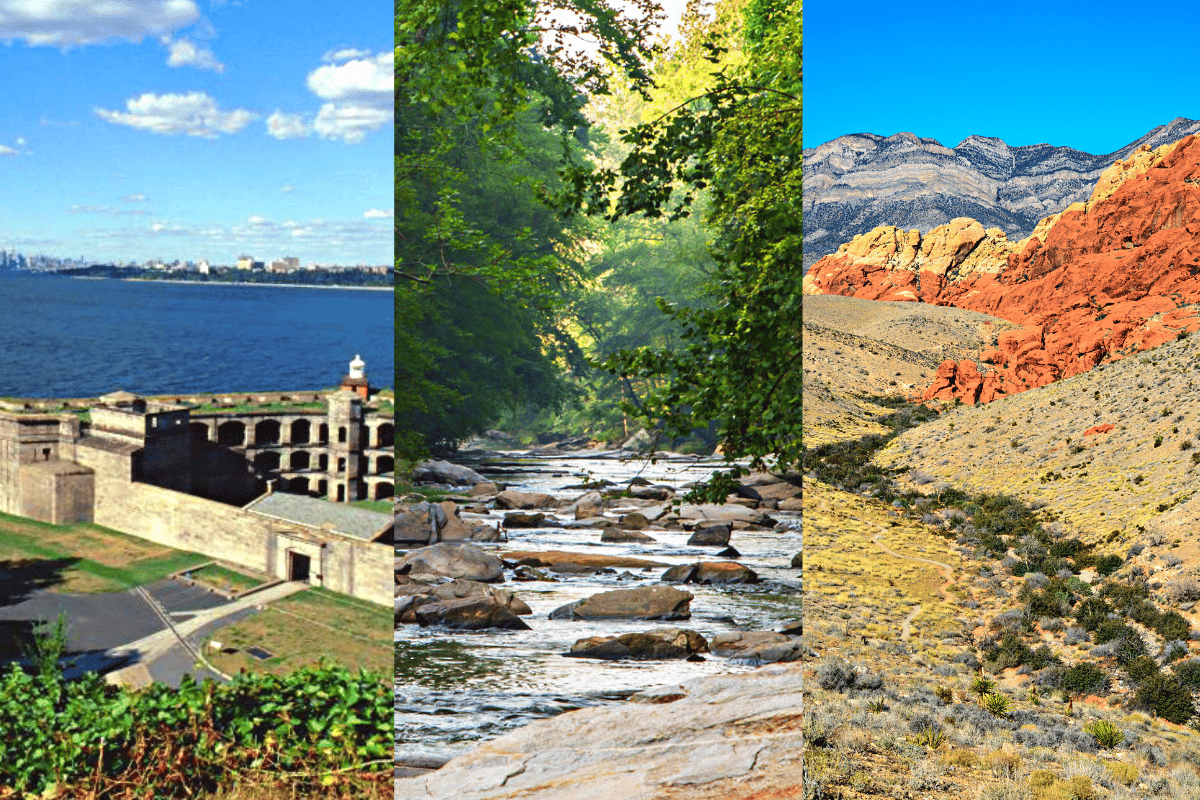 When you choose a national parks vacation, it's usually because you want to trade in the buzz of city life for a more laid-back vibe communing with nature. And while that's definitely the definition of 'getaway', sometimes you want to commune with the birds and get back to the comforts of clean bedding and maybe some nightlife entertainment. At these 3 national and state parks, you can have your nature and your city accommodations without hours of drive-time to reach civilization.
Gateway National Recreation Area – New York City
From the sands of the Atlantic into the harbor, Gateway National Recreation Area in New York City brings locals and visitors alike who want to see wildlife, get some sun on the sand, or get active. You can bike, boat, paddle, fish, and more in the 11 parks that make up the recreation area. These parks can be accessed via city bus, subway, or one of the many ferries.
Jamaica Bay Wildlife Refuge is perfect for watching birds and other animals and it's the only wildlife refuge in the entire national park system. This location is important for the nesting habits of terrapins, piping plovers (on the endangered list), and horseshoe crabs. The park at Staten Island has beaches and trails perfect for escaping the bustling New York City life, and fishermen love the park at Sandy Hook just across the waters in New Jersey. You can get to the Sandy Hook park via ferry in Manhattan during summer months.
Chattahoochee River National Recreation Area – Atlanta
Head south to Atlanta, Georgia for the next urbanized national park at the Chattahoochee River. This national recreation area spans nearly 50 miles of the river. Calm, still water is followed by gentle rapids, great for just lazing the day away on an inner tube or renting a raft to glide over the rapids of whitewater. The section of river from Powers Island to Paces Mill is a popular section for this. Fishermen enjoy casting for trout and catfish, while fitness-lovers enjoy the 3-mile trail for walking, running, and biking.
Red Rock Canyon National Conservation Area – Las Vegas
Finally, heading west to Nevada, a 15-minute drive from downtown Las Vegas will bring you to Red Rock Canyon. This national conservation area sees over 3,000,000 visitors every year, making it one of the nation's top rock-climbing destinations. This is partly due to the views and partly because of the chance to climb and become one with these amazing vistas. Some escarpments are as high as 3,000 feet and offer incredible hiking opportunities.
All of these park areas offer the beauty of nature with the knowing you don't have far to travel to get back to a nice, warm bed and a hot breakfast in the morning.