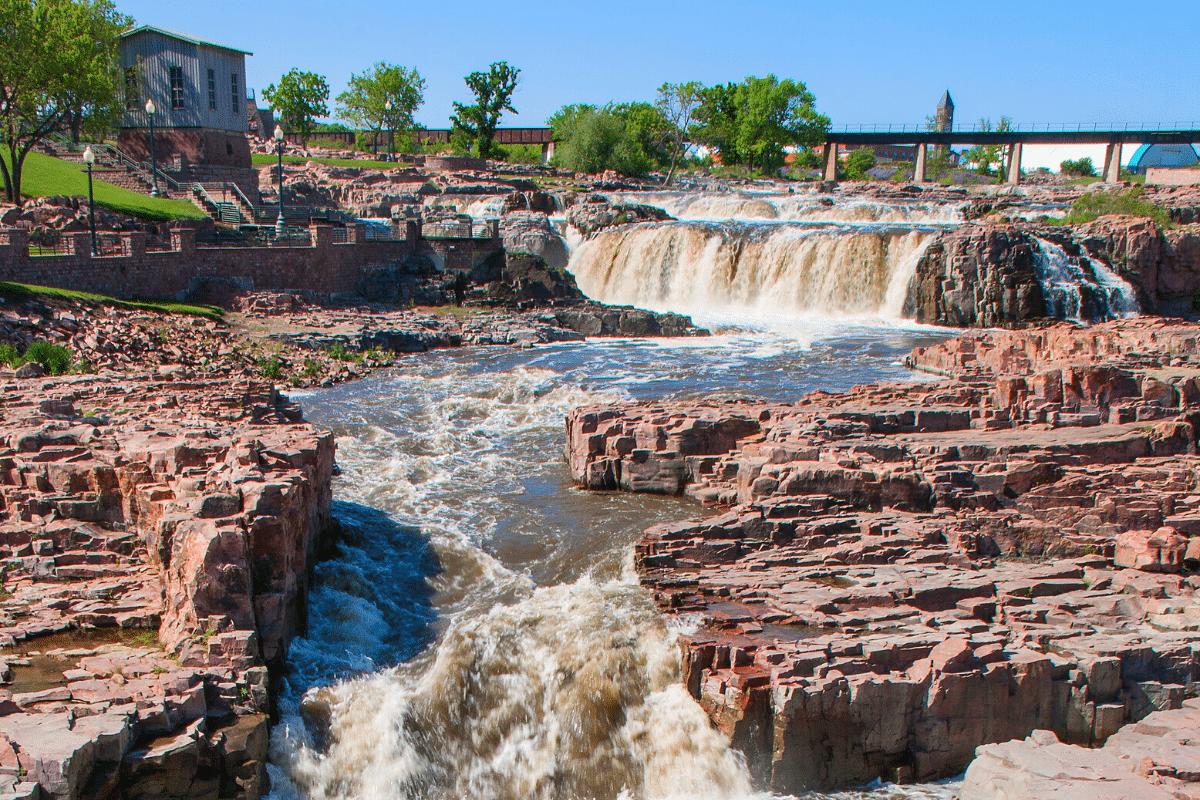 South Dakota is vast — natural beauty, low population — think Montana on a smaller scale, but just as beautiful. It's the perfect state to get away from tourist crowds and experience everything the outdoors has to offer. Here are some suggestions for doing the Dakotas: South Dakota things to see.
While Sioux Falls is the state's most populous city, it's also a great place to start your adventure. The downtown area is chic with a cute, Americana feel. You'll find plenty of places to shop, dine, and stay. When you're ready to head out and see the city, here's a list of places to see to get you started — you'll surely find even more to explore as you make your way.
Falls Park
Falls Park is the perfect spot to start. Sioux Falls is so named because of the waterfall you'll find here. You'll be surprised to see these rapids tumbling into the jagged rocks below after driving through flatlands on your way to Sioux Falls. Next to the waterfall you'll find a charming café, a bridge overlooking the falls, and an observation tower. There's even what's left of an 1800s wheat mill on the grounds. After a long car ride, this is just what you need to stretch your legs. It's a proper introduction.
The Riverwalk
From Falls Park, stroll southward along the Big Sioux Riverwalk. The paved path takes you right into downtown. The Big Sioux River snakes throughout the city and offers plenty of walking trails and even some popup performances by local musicians.
The Badlands
The official name is Badlands National Park, but everyone knows this place as just The Badlands. It's a whole other world out here with some of the most unique landscapes on the planet. Buttes and stone pinnacles are nature's creations. These spatter the area, then culminate in a drop-off into the nation's largest, least disturbed prairie. So many varying landscapes make this one of the best places to experience South Dakota.
Don't forget to stop in at the visitors center for a map and grab some water.
There is so much you don't want to miss when "doing the Dakotas". Do not overlook these South Dakota things to see. Enjoy your visit!