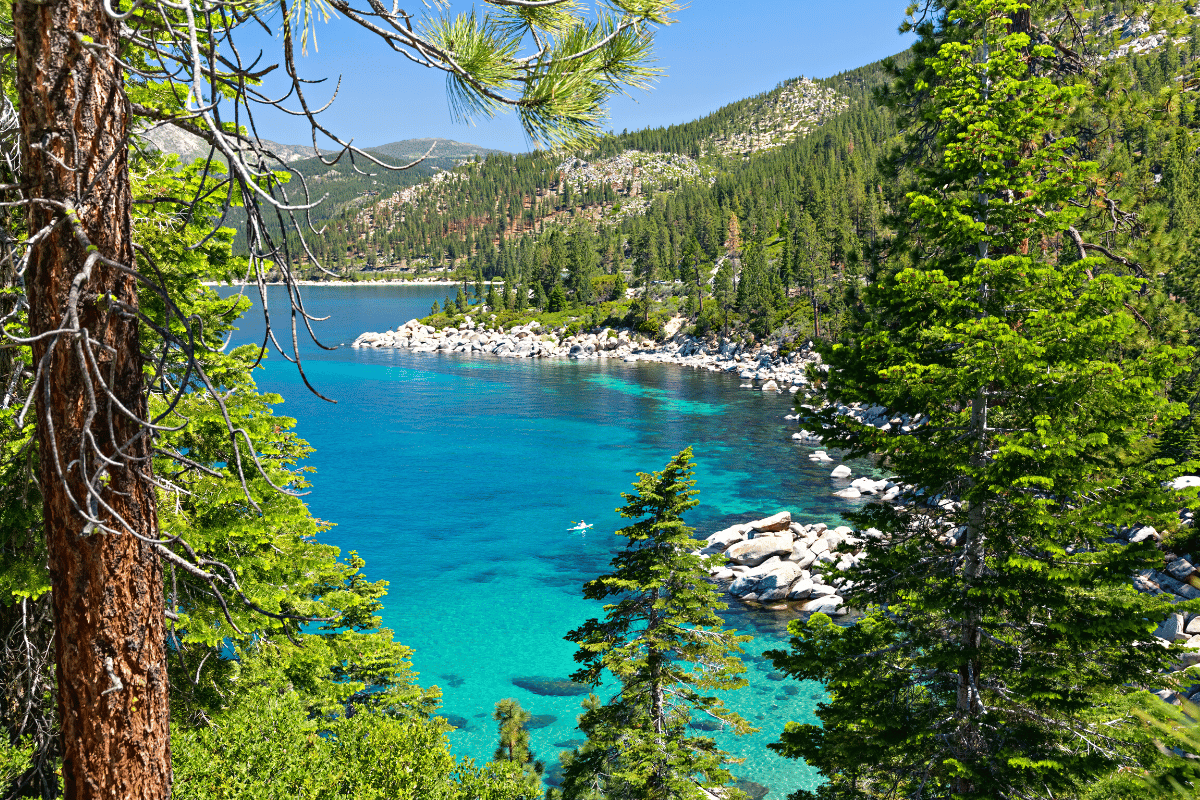 High up in northeast California's Sierra Nevada Mountains lies North America's largest mountain lake. Just imagine, crystal blue waters surrounded by rocky shorelines, a scent of pine in the air, and all above 6,000 feet over sea level. In summer, boating, swimming, fishing and other water sports; in winter, skiing and other snow sports. Spring and fall are equally ideal for outdoor activities and taking a drive around Lake Tahoe. No matter what time of year you visit, there's plenty to do indoors and outdoors. Lake Tahoe is perfect any time of year.
Lake Tahoe is located on the border between California and Nevada with an imaginary north and south line dividing California and Nevada's boundaries. Another imaginary line runs from east to west separating North Lake Tahoe from Tahoe South. These tiny distinctions can help visitors plan accommodations and activities when planning a Tahoe vacation. Most visitors arrive at Lake Tahoe via the Reno-Tahoe International Airport, which is about an hour northeast of the lake just outside Reno. This Nevada city is a destination in itself.
Planning your itinerary is one thing — figuring out the kind of stay you want revolves around your accommodations, though. Where you stay will speak to your itinerary. For instance, if you fly into the Reno airport, you'll have a little bit longer drive after you land, but The Landing Resort and Spa on Lakeshore Boulevard in South Lake Tahoe is the perfect location no matter what time of year you visit. Heavenly Village is just minutes away for wintertime skiing or summertime sightseeing by gondola.
At Jimmy's Restaurant, you can enjoy your meal in your own private alcove — in winter, request one with your own private fireplace to kick up the romance. Grand Residences Lake Tahoe is another accommodation option in the South Lake Tahoe area. If you prefer to get your vacation started as soon as possible after you land, consider Harrah's at Lake Tahoe.
Looking to plan your vacation here? Lake Tahoe is perfect any time of year. When will you go?